Home
Sylvester (Syl) Di Diego
Sylvester (Syl) Di Diego is professional Strategist, Consultant (Management, Venture, Digital), and Coach who serves entrepreneurs as well as innovation champions, teams, and organizations across the venture lifecycle. He is an accomplished Management Consultant, Venture Consultant, Digital Consultant and former Fortune 500 executive (marketing, operations, supply chain, finance, investment and C-Suite/Board Advisor). Syl works at all business stages – from concept to implementation and turnaround; with entrepreneurs, small business owners, venture-backed companies, and corporate subsidiaries; and across business ecosystems.
Syl has worked for clients in USA, Canada, Japan, S. Korea, China, Thailand, Pakistan, Brazil, Peru, and Mexico. He speaks English (native) and Japanese (business).
Option 1 | FoR Entrepreneurs with Own Idea or Business
Sylvester is a great resource when you seek business success with your own strategic initiative, invention, technology, app, webshop, platform, product, business, project, platform, or marketplace. He helps clients with startups, spinouts, launch, finance, scale, pivot, reset, and turnaround.
option 2 | For Global ONLINE Shopping Platform ownership (Free)
If you are entrepreneur-driven, but without a specific idea, then consider owning your own free ATOMY business system. This is a complete turnkey Online Shopping Mall Platform that is global in 24 countries. For entrepreneur there are no fees, no obligations and no risks. More there is free training and free coaching. The Company handles product R&D, vendor sourcing, shipments, inventory, suppliers, and customer service. Learn more at bottom of this page.
Schedule a FREE Consultation with Syl Di Diego
Click here to schedule a free 15-minute consultation with Syl Di Diego.
---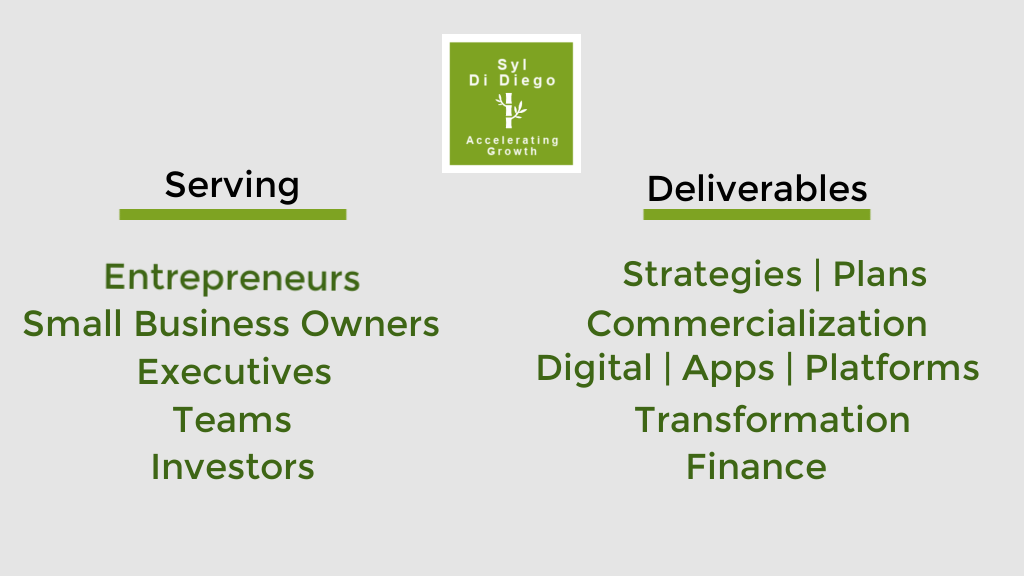 ---
Option 1 | For Entrepreneurs with Own Idea
Coach, Advisor & Consultant | for Entrepreneurs, Startups and Small Businesses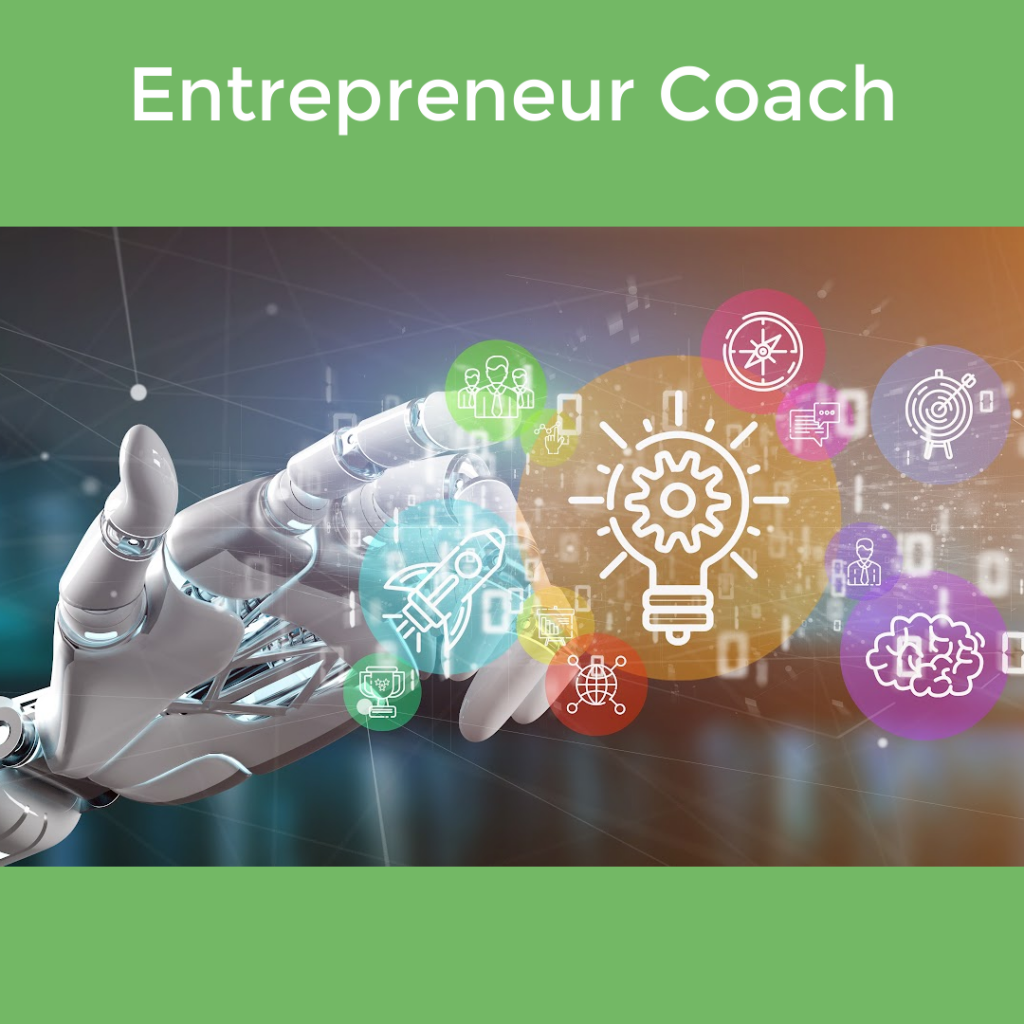 Syl Di Diego serves as coach, advisor, and consultant to inventors, entrepreneurs, startups, small business owners, investors, incubators, accelerators, and non-profit leaders.
Experience: over 20 years.
Services include technology commercialization, strategic planning, business plans, go to market, strategic alliances, financial models and forecasts, capital raising guidance, strategy implementations, and project management.
Syl also serves as innovation facilitator for problem solving, product development, business planning, board decision making and more
Engage with Syl Di Diego
Contact e-Mail Syl Di Diego Entrepreneur Coach.
---
Digital & eCommerce Consultant & Strategist
Sylvester serves as Digital & eCommerce Consultant or Project Manager for small business owners, project teams of corporations, and for executives of invested companies.
Experience: over 20 years.
Services:
As Digital and eCommerce Consultant, Sylvester leads project teams (agile and waterfall) to conceive, design, build, test, launch, and improve apps, websites, webshops, and platforms – including the digital front and back-ends, app integrations, sourcing, fulfillment, payments and with strategic partners. Syl is also active for other digital project needs – including for strategy, design, build/programming, and project reset. He is also involved with digital transformation projects with cross-functional and cross-border teams, organizations, and ecosystems.
Serves clients directly through Upwork as Top Talent.
Serves clients directly as independent freelancer.
Served clients in past as employee of Scient/Razorfish – a publicly listed eBusiness Accelerator/Consultancy and now Digital Agency.
Served clients in past as business owner of Strategy Dynamix, LLC.
Examples:
(Recent) Signature agile project management role for Unilever Food Solutions Group North America for external eCommerce Shopify Sites USA and Canada and internal digital transformation projects.
(Past) 1st eCommerce investment $1 Million recommendation in "Virtual Vineyards" California by Mitsubishi Corporation. Exit via acquisition by Wine.com.
Engage with Syl Di Diego
Contact Syl Di Diego.
---
Accelerator and Incubator Services
Sylvester provides various customized services to state, university, and privately owned incubators and accelerators with a focus on technology commercialization, grants, capital fund raising, business planning, go-to-market, sales planning, and venture leadership training.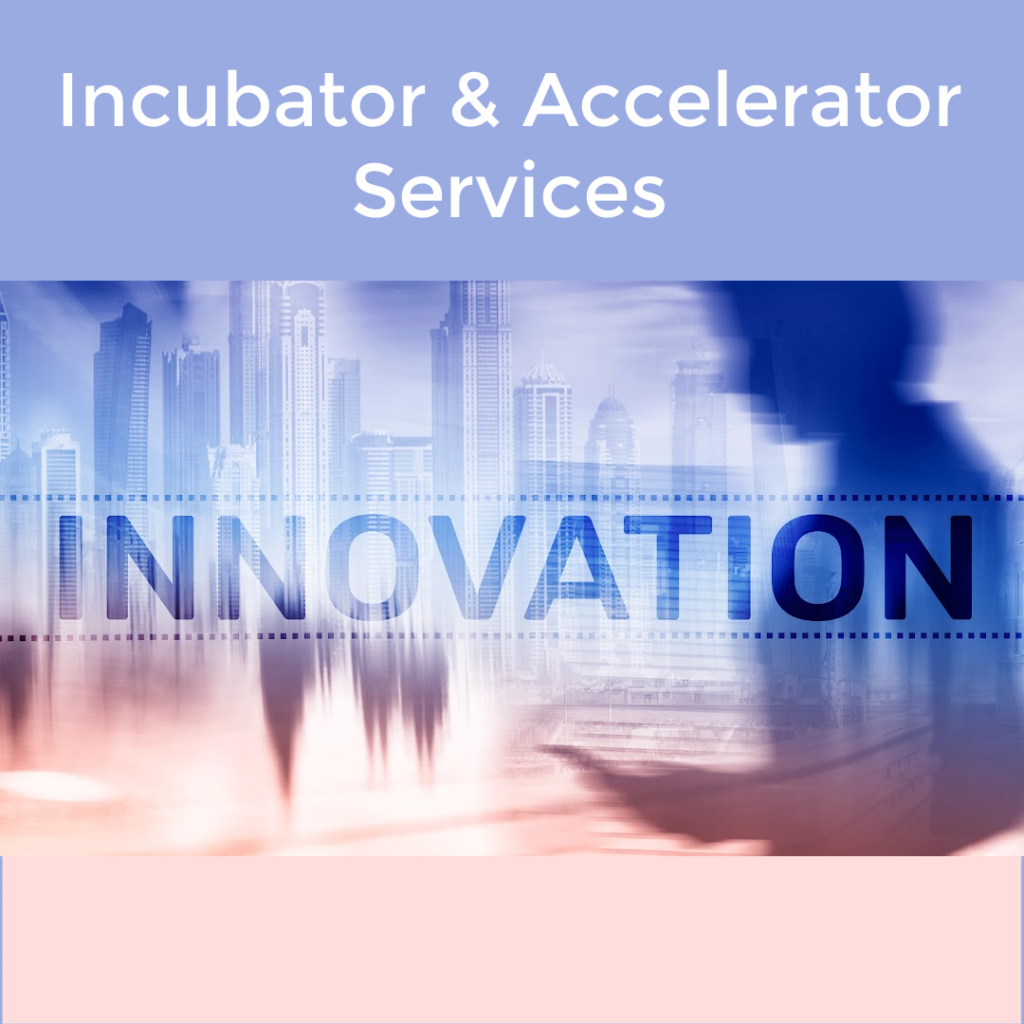 Examples of Signature Multi-Year Programs:
Venture Business Plan Coach at Enterprise Development Center (EDC) Incubator, New Jersey Institute of Technology, Newark, New Jersey (served 70 incubator tenants over 4 years).
Program Director, Co-Founder, Curriculum Design & Venture CEO Trainer at Mitsubishi Corporation "Venture Catalyst Program" a 20 day corporate training program in USA.
---
Executive & Board Advisor / Strategist | Board Member
Sylvester serves executives and board members in the areas of strategy, decision making, alignment, strategic alliances, and exits.
Advisor as Professional Consultant:
(Present) Serve clients directly through Upwork and as freelancer through Strategic Digital Ventures.
(Past) Sylvester served as CEO Advisor, management consultant, and engagement manager as: employee of a publicly listed accelerator (SCIENT/Razorfish), as owner of private accelerator service provider (Strategy Dynamix, LLC) and as owner of private Foreign Direct Investment (FDI) transplant service consultancy (Strategy Dynamix Services, LLC)
Advisor as Fortune 500 executive (past):
As employee internal advisor to Chairman's Office Americas and as employee staff to Corporate Global Investment Board (Americas and Global) of Mitsubishi Corporation – a global Fortune 500 company and its 500 global subsidiaries, Sylvester provided strategic, governance, finance, operations, strategic alliance insights, due diligence, investment recommendations, management consulting, monitoring, and portfolio financial performance enhancement services.
Board/Committee Roles (past):
Advisory Board Member, Center for International Business & Education (USA) at RVCC
Chair & Co-Founder: Consul Program NJ for Life Sciences, Health, Wellness
Church Board Ruling Elder, Liberty Corner Presbyterian Church, NJ USA
Board Member and Strategy Committee Member, United Methodist Church, NJ USA
Corporate Board Appointed Member, Mitsubishi Pension Committee (USA)
Sub-Committee Leader: FDI to Japan, American Chamber of Commerce in Japan
Corporate Appointed Member, Mitsubishi Bank Forum Emerging Global Leaders Program (Japan)
Corporate Appointed Member, Leadership New York 3 (NYC Partnership & Coro Foundation)
Board Member, Mitsubishi Foundation (USA)
Board Member, Mitsubishi Pension (USA)
Board Member, Mitsubishi 401K Management Committee (USA)
---
Speaker & Master of Ceremonies
Syl Di Diego is a professional speaker, Master of Ceremonies (MC), and trainer.
He serves incubators, business organizations, business associations/networks, small and large companies, incubators, accelerators, and non-profits.
Experience: over 20 years.
Representative Speaking Keynotes
American Chamber of Commerce in Japan – Invest in USA Committee
Atomy America, Inc. Success Academy
Japan Society of Alabama
Latin Trade Magazine Logistics Conference
Mitsubishi International Corp. – General Manager Leadership Program
National Association of Plastic Manufacturers Annual Conference
New Jersey Institute of Technology
Rotary Club of Japan (Japanese)
The Wharton School
Venture CEO/Entrepreneur Leadership Programs | Program Manager, Instructional Design, and Trainer
Mitsubishi Corporation Venture Catalyst Program (20 modules)
New Jersey EDA Commercialization Center for Innovative Technologies (20+ modules)
---
---
OPTION 2 | FOR GLOBAL ONLINE SHOPPING PLATFORM OWNERSHIP (FREE)
If you are entrepreneur-driven, but without a specific idea, then consider working with Syl Di Diego ATOMY with a Consumer Online Shopping Platform. ATOMY offers a FREE plug & play, turnkey business platform with reach to over 22 countries. There are No Fees. No Obligations, and No Risks – neither for consumers nor for income seekers.
Sponsor & Coach | ATOMY Online Shopping Platform
SRM Syl Di Diego and SRM DiDi are ATOMY coach and sponsor who guide consumers to optimize their ATOMY Korea-Beauty, Korea-Health, and Korea-Lifestyle product selections as well as to accelerate their generous cashback earnings from the official ATOMY online shopping platform. Atomy offers S. Korean and locally sourced products in 30+ countries. Products are curated for Absolute High Quality at Absolute Low Price.
ATOMY Membership is free.
Services
Membership Sponsorship, Consumer Onboarding, 1-1 Coaching, Group Training.
All our ATOMY related services are free and your ATOMY personal platform is free!
Join TEAM with Sponsor-Coaches SRM Syl and SRM DiDi
Learn more or contact SRM Syl and SRM DiDi on the sister site Syl Di Diego ATOMY.
About ATOMY
ATOMY is a new category of Online Shopping with Direct-From-Consumer Member Buying and also Direct-To-Consumer Profit Sharing (up to 70%). There are over 15 million connected ATOMY shoppers in over 22 countries and in EU. Consumers purchased $2.0 Billion GMV of ATOMY daily goods in 2021.
JOIN ATOMY online shopping platform on sister site Syl Di Diego ATOMY. Then SHOP on the official ATOMY online shopping platform with your unique ATOMY Member ID Number.
Have Questions?
If you would like to discuss with Syl Di Diego about how he might help accelerate your success, then feel free to contact us.
Schedule a Free Consultation with Syl Di Diego
Click here to schedule a free 15-minute consultation with Syl Di Diego.